There is/was a ton of great stuff for Buddhism blog readers to find, written by our noble blogger friends. Hot topics: Ken Wilber, the Dalai Lama, Osho, animal rights, Kabbalah, Hotei on a wall, Peaceful Warrior, Buddhism in the hinterlands, another Danny Fisher sighting, a killer cow, and differences between South Koreans and Americans.
Ken Blogging
Hover over the tip of Ken's ring finger, make the symbol of Switzerland spin, click and you are taken to young naked Ken, underneath whom is the first entry in the blog at newly configured
kenwilber.com
. [
5/5/06 Update
:
Here's a shortcut to the blog
.] And who writes the entry, and is one of the foursome who will keep it going? Famous Mel, now known as ~C4Chaos. His entry is tentative and self-conscious, but by the end of it, he gets in some really good wordriffs, such as …
"The blogosphere has become my playground where ideas are formed and channeled, where friendships are brewed, where love and angst are expressed, where the profane and profound mutually co-exist, and where Spirit manifests as hyperlinked ephemeral web pages. I thank the elegance of Integral Theory for making it possible for this consciousness to have a map of 'reality' that enables it to hold different ideas and points-of-view, conflicting or otherwise, and still see 'the big picture.'"
There is no RSS nor permalink nor comments functionality to this blog – features as important to excellence in blogging as having a welcome mat, front door and guest room is to owning a nice house – but we'll see how it all goes and evolves. [
5/5/06 Update
: Here's a
permalink to ~C4Chaos's entry
. There still is no RSS nor comments taken; and now that there are about ten entries, we can see that there is no way to easily distinguish who wrote what in this group blog.] Warm congrats to ~C4Chaos, certainly! This gig is equivalent to Gabriel getting hired by God. One wonders if one of the perks to
KenWilberBlog
ging is that you get to zoom past Yellow, Teal and Coral and go straight to the Clear Meme, which atunes you to the Kosmos such that you never again have to pay for cable or buy adding-machine tape.
Streamin', Part I
James of
The Buddhist Blog
takes
the Dalai Lama's philosophy of kindness and finds it under the blanket
in the script of
I Heart Huckabees
.
"Bernard [pushes hand up in different places under the blanket] … '… I'm, what, 60-odd years old and I'm wearing a gray suit. Blah, blah, blah. And let's say over here, this is you. And, you're... I don't know, you're 21. You got dark hair, etc. And over here, this is Vivian, my wife and colleague. Then over here, this is the Eiffel tower, right? It's Paris. And this is a war. And this is, uh, a museum. And this is a disease. And this is an orgasm. And this is a hamburger.

[And later...]

… We think everything is separate. Limited. I'm over here. You're over there. Which is true. But it's not the whole truth because we're all connected.'"
Kristian of
Wandering where you will
is
impressed by some teachings of Osho
[q.v.,
wiki
].
Chase of
Cut to the Chase
has
a video he wants the president to see
. He ends his post with this quote: "There are only two mistakes one can make along the road to truth: 1.) not going all the way; and 2.) not starting" ~ Buddha. Hopefully, Bush won't use these words of Buddha's to justify his War in Iraq and its continutation!
Sean of
Wandering the Pathless Land
seems to have come to a bit of a fork in his own life's path. But
happily he has picked up the fork
, eaten a meal of wisdom, and has come to a determination of what will be front and center in his life: Focusing on Design. He writes,
"I can look back over the totality of my life and say with confidence that if there is one thing I love to do the most it's design things. There's something about the process of taking an idea and transforming it into tangible reality that has never ceased to fascinate me."
Clarity of
Clarity's blog
will
soon be teaching Shambhala Training Level III
, "Warrior in the World." A couple of items from a bulleted list of notes he's taken:
"The goal of warriorship is to express basic goodness in its most complete, fresh, and brilliant form"
And
"fearlessness - you are prepared to be awake in every situation, because you are not on the side of success or failure"
Cool!
Ajahn Punnadhammo,
Bhikkhu's Blog
ger and occasional
Toronto Star
columnist, wrote of his thoughts on baby-seal hunting and factory farming for the newspaper [
q.v.
]
, in a piece with similar sentiment to a blog post earlier this month. Writes the bhikkhu regarding response to his new column, "Anything to do with animals always seems to stir things up. The one I did on the spring bear hunt was another one which got lots of comment. … The next most active response was to my article on the gay marriage issue. If the Star ever needs a big boost to circulation, I'll do one on homosexual bears."

Moose,

The Contemporary Taoist

, tells us about AIN SOPH [q.v., wiki] – a principle of Qabbalistic [q.v., wiki] Cosmogony – that is the unconditioned state of all things, that is indefinable and permeates all space. Then, in a topic lerch, Moose tells us just a wee bit about "the brevity thing."

Hokai of

Hokai's blogue

is also interested in Qabbala [only he spells it "Kabbalah"] His interest is in the connections between Japanese Shingon Buddhism AND Western mysticism (Kabbalah and Christian mysticism). It seems that sets of symbols appear in these seeming disconnected traditions that are very similar or the same. Hokai identifies many instances for us that is just a sampling of all that he has found.

John of

Inveterate Bystander

supplies some delicious notes about consciousness, East and West. Here are parts of two of the six bulleted items.
Eastern gurus teach that to think is to be plunged into time. They say that to be in the eternal present of consciousness is to be without thought. … Consciousness, then, is a function of memory.

Eastern teachers say that you are not the thoughts. They teach that thoughts are mistaken for the self. They also teach that the thinker is in the thought. … There is no conscious thinker, except as an after-effect perceived on the screen of consciousness.

Cliff, now being respectfully referred to as "Mr. Jones," is becoming a bit of a celebrity in his neighborhood as the fellow who will be giving a talk on Vesak on actual Vesak day. Mr. Jones blogs

This is this.



Jay Allen [formerly writing as Jigdral Dawa] of

The Pagan Bodhisattva

writes about problems in his upbringing that manifest as difficulties for him as an adult. He then discusses how issues such as his – quite common for Westerners – are disregarded to painful effect when western Buddhists rely on Asian techniques for spiritual advancement. "The result: Western teachers and advanced Dharma students who have reified their fragile egos into spiritual ideals." Citing Ken Wilber insights, he then writes, "[Instead, we need to use] depth techniques to learn and discover more about our issues before we heap a shitload of spiritual techniques upon them. It's all about 'knowing thyself' - the spiritual conjunction of Socrates and Freud."

An alert to fans of

The Pagan Bodhisattva

: The blog has moved to http://www.jayandrewallen.com/, and, as mentioned above, our blogger friend is now using his name Jay Allen rather than Jigdral Dawa. Correct your bookmark, RSS aggregator [RSS] and blogroll, y'all.

"Gone, gone, beyond gone, entirely beyond gone, awakening is so."

Morgannels

of the eponymous blog writes about the do-it-yourself Heart Sutra. Seems the instructor of a class on emptiness suggested that the students write their own, so Morgannels, not knowing Sanscrit, borrowed Red Pine's translation and wrote a modern do-it-yourself version, called "The Mother of all Buddhas."

Update on the Buddha on the Wall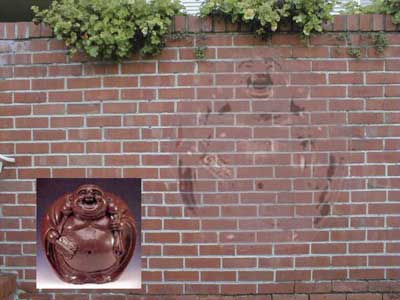 Forget about the Da Vinci Code, and its lawsuit and the subsequent mystery in a ruling by the geeky British judge. The controversy that amuses and intrigues many Buddhists - including a few bloggers - is Buddha Wall, where many Floridians saw a vision of Hotei, the obese Laughing Buddha, stained onto brick. Do great Buddhas attempt to communicate with us using supranatural means!? Opinion is divided.

The picture, here, and a story about it, "Sightseers Flock to Buddha Wall," appeared in Kit Baskind's

PaperFrog

early this month. Kit's story, and the piece posted by The Buddhist Channel, originated from an Associated Press International report out of Naples, Florida. This was followed shortly thereafter by a report in the Hindustani Times, which prompted discussion in the Delhi-based English-language forum, The Prism. One forum member's assessment: "For a scientific explanation you might want to explore 'Pareidolia' which is the human tendency to see faces in objects. A quick example is the man in the moon. " A more doubtful second forum member writes, "Isn't graffetti a wonderful thing?!"

And then there was a post on the topic just two weeks ago in Phra Noah Yuttadhammo's blog

Yuttadhammo

, followed by pictures taken Apr. 17th, posted in Zonel's IT & photo blog

Zoolander

. Because the image on the wall is vague, some, such as

WoodMoor Village

's Nacho, believe it is just a remarkable coincidence that a constellation of stains has a slight resemblance to Hotei. "It is no different nor any more unlikely than the Mother Teresa miracle NunBun or the Virgin Mary grilled cheese sandwich, or the Fish Stick Jesus, or the

Via Negativa

watermelon revelation -- coincidences, all."

Others think the image, though vague and incomplete, includes remarkably accurate details, including the navel and glints of light. "There has to be mystical intelligence explaining its appearance," says Speculatoria forum writer Timberwolf. A small item in the Orlando Tribune, dated April 28, reports that the image has now disappeared and that the wall no longer draws visitors. What stains are there now look to be nothing more than random blobs and flaws in the brick. Only a blot on a single brick, ten layers up from the ground - "the navel," to those who felt they could discern a buddha on the wall - remains exactly as it was. Perhaps it is significant that it is the navel, of all things, that remains.

Streamin', Part II

In an interesting, short post titled "Why I don't separate the personal stuff from the philosophy" in

Ordinary Extraordinary

, Justin writes "…I don't want to regard … abstract ideas as if they were free-floating entities in some separate Platonic realm. Rather, they are my thoughts, the thoughts of a particular brain and body and life."



Mudita Journal: Mindfulness and Individualism

, which mixes sympathetic joy with the philosophy of Ayn Rand, is interested in movies this week. Joshua's blog reports on a movie version of Dan Millman's The Way of the Peaceful Warrior, coming to theatres in June; terrific reviews for United 93; and, at last, a celluloid version of Rand's masterwork Atlas Shrugged, possibly starring Brad and Angelina.

John of

My Zen Life

is also looking forward to the coming movie, Peaceful Warrior, made of Millman's book. The book touched his heart, deeply. In another post, John finds Buddha-wisdom in a quote Roman emperor Marcus Aurelius: "very little is needed to make a happy life; it is all within yourself, in your way of thinking."

Mark of

Zen Filter

put a blog recommendation up at the end of this week:

Exploring Buddhism

. It is a fairly freshly minted blog by a fairly freshly minted Buddhist, Annie, a Yankee expat who now lives in Scotland. The subheading of Annie's blog tells us she is especially interested in the teachings of Thich Nhat Hanh.

In a post titled "The myth of our exalted human place," George of

Sentient Developments

writes about the experiences that all sentient beings share AND about those in denial about what considerable pain is visited upon non-human animals by humans. George concludes his post, "it is when we consider the well-being of both human and non-human animals that we become truly humane."

Kit of

PaperFrog

apprises us of a small-newspaper article about Buddhism. The article itself as well as its message is proof positive that Buddhism's reach now extends into the hinterlands of America. The piece was first published in The Hackensack [NJ] Record, but is republished, and appears online, in northeastern Pennsylvania's Times Leader. The article, titled "Buddhism's reach is extending into America," begins with a quote of "Betty Levy Practicing Catholic": "In the Gospels, Christ is teaching how to live. … And Buddhism helps give me the tools to live like we should … ." In another post, Kit informs us that

PaperFrog

is still hopping after all these years - which number exactly three, and change. Happy Birthday, Frog Blog!

Reflecting on his recent retreat with Stephen and Martine Batchelor, Will of

thinkBuddha

offers his thoughts regarding systematic meditative investigation, aka inquiry.



Danny Fisher

and his eponymous blog has re-emerged, sort of. The blog is there; a post isn't, yet.

Nirodha begins a post in

Steps along the path

with a quote from the Bahiya Sutta. "Upon hearing these words, Bahiya was immediately enlightened. Moments later he was killed by a runaway cow. So he was right: life is uncertain…" Nirodha then engages the idea of Instant Enlightenment that the sutta presents.

Tyson of

tysonwilliams.com

quotes Bhikshuni Thubten Chodron's book How to Free Your Mind: Tara the Liberator. Here's my favorite snippet: "…attachment to pleasant feelings and to the people, objects, and situations that cause them, and aversion to unpleasant ones – it is these emotions that cause trouble."

Kalsang Dorje of

The-universe-is-all-in-your-head

tells us what he wants from us. His post ends, "The real value is the interactivity of my environment and since you are here, you've entered it. So, for my benefit and everyone elses, bring quality.



So, What's in your head?



Soen Joon Sunim writes in

One robe, one bowl

about differences in how Americans and Koreans think – in part because of how the nations' languages are structured. But also for cultural reasons. It's a delicious post for any Western reader. Here's a quote from the nicely very long post:
What I've found is that Korean society relies heavily on appearances, not in a superficial way, but in a functional way. It's part of the reason titles are more important than names in Korea. It keeps things structured and working. In the school I taught in my first year in Korea, about half the teachers knew each other's names. The other half didn't have a clue. It didn't matter. You just called everyone "Teacher" and that was good enough. It was what you needed to know in order to make the school work. Names—a personal identity—were not a necessary component of the work-day. Call this crazy (and it is maddening for a Westerner), but it's the way things work in Korea.
***

Technorati Tags: Buddhism, Zen, blogging, blog carnival, blangha

You can contact Blogmandu Reporter at this address: tarmstrong /att\ zenunbound \periedd/ com